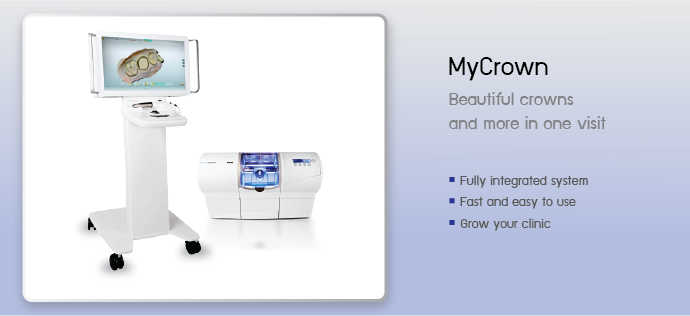 HIGHLIGHTS
COMPOSITION
BENEFITS
Fully integrated system

The system comes complete with acquisition unit with 2D and 3D camera, state-of-the-art intuitive software and milling unit. MyCrown Design guides you through each step of the process for easy acquisition, proposal and creation of the desired restoration. The MyCrown Mill with dual spindles completes the process by creating the pre-approved design, ready for use.
---
Fast and easy to use

The intuitive guided software ensures fast and easy operation of the unit. The step-by-step guided process guarantees quick planning and smooth delivery of a beautiful milled crown or other supported restorations.
---
Grow your clinic

Grow your clinic like never before with MyCrown CAD/CAM system! Allowing to create the most common restorations in general dentistry - crowns, veneers, inlays, onlays and small bridges – in one visit it is an excellent solution to take control of your dental practice and invest in new services and equipment.

MyCrown Design

The CAD/CAM system features a fully integrated software guiding you through every step ensuring smooth performance and ease of use. The unit comes with touchscreen monitor and cart on wheels, allowing easy transportation between treatment rooms if needed and easy storage during non-operational times.
---
MyCrown Scan

The small and light camera is easy to use and allows comfortable reach of all intraoral areas. The real-time 3D scan is precise and immediately available to view. The lightweight design allows simple manipulation and ensures minimal patient discomfort during acquisition while guaranteeing maximum hygiene as it is used with single-use protective sheaths. The camera is preheated thus preventing fogging and ensuring minimal time required for the scan.
---
MyCrown Mill

Immediately ready to use, MyCrown Mill communicates with the software through wireless connection, can serve multiple acquisition units, plugs into the power outlet and requires no air or water line, making it suitable for nearly all working areas. The two-spindle system, with milling and grinding properties, ensures high speed restorations with an average of 12 minutes required to produce a crown. The size of the unit is compact allowing it to fit in every dental office.
MYCROWN SCAN AND MYCROWN DESIGN

MyCrown CAD/CAM system provides smooth, guided and seamless workflow – from acquisition through design to milling. Fast and easy.

The touchscreen contributes to a modern practice image, allowing easy interaction, and is fully compatible to be used with gloves.

MyCrown Scan camera hygiene is ensured by using high-level disinfection liquid, wipe disinfection or single-use hygienic sheaths.

The fully mobile acquisition unit is ready to be shared among multiple operatories, communicating with the milling unit wirelessly.

The lightweight and compact camera is comfortable to use, with a pen-like grip, so you can easily reach all areas in the patient mouth.

2D functions of MyCrown Scan allow to elevate patient communication to the next level – using it as an intraoral camera.

NatureShape feature analyses all scanned teeth and generates a natural anatomy of the restoration.
MYCROWN MILL

Plug&Play table-top device fits in every dental practice. It only requires a power line with no compressed air or external water supply needed.

The Dual Spindle technology offers exceptionally fast manufacturing of restorations – wet grinding or milling.

Supports variety of materials from different manufacturers including zirconia, glass ceramics, hybrid materials and polymers for temporary restorations.

Manufacturing processes are optimised for each individual material.

The restoration proposals take into consideration guidelines from material manufacturers – such as minimal wall thickness.