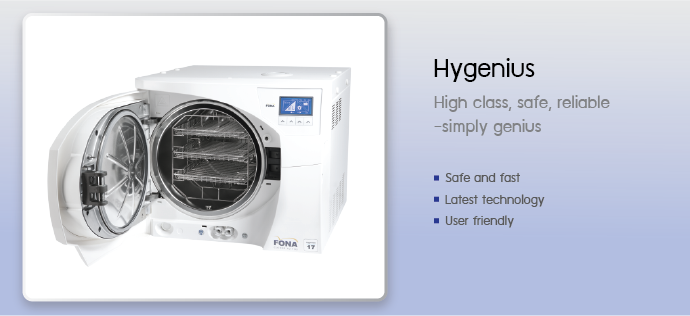 HIGHLIGHTS
FEATURES
TECHNICAL SPECIFICATION

Calc-resistant, quick steam generator and durable chamber heater for reliable perfromance.

Designed to meet the highest clinical safety standards. Fast steam and heat generation with active cooling for a safe and shorter cycle.

Simply click to start sterilization, intuitive menu in 21 languages.
Sterilization Cycle: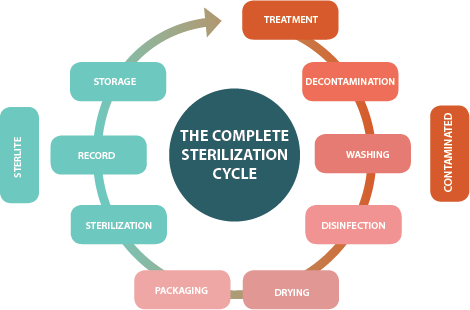 Two available capacities 17 L and 22 L

Short cycle times for faster workflow

Safe and effortless door closing mechanism

Various distilled water filling options

Quick and easy installation

Easy low maintenance
Tray support

For trays and cassettes including 5 wire trays.
---
Water drain

Front and back with quick connector.
---
USB Connector

Report management and firmware update.
CYCLE DESCRIPTION
Cycle type
Holding time (min.)
Hygenius 17
Hygenius 22
Total cycle times (min) incl. drying
134°C UNIVERSAL
B
4
37
40
121°C UNIVERSAL
B
20
52
55
134°C PRION
B
20
53
57
134°C HOLLOW
S
4
29
32
134°C FLASH
S
4
25
27
XXX°C CUSTOM
Temperature 121°C / 134°C
Process times from 4' (134°C) or 20' (121°C), selectable drying
VACUUM TEST
Test
Test
27
25
HELIX / B&D TEST
Test
Test
29
31
TECHNICAL SPECIFICATION
Hygenius 17
Hygenius 22
Mains supply
120 / 60 Hz, 220 - 240 / 50 Hz, 220 -230 / 60 Hz, 2300 W, 10 A
External dimensions (LxHxD)
480 mm x 420 mm x 560 mm
480 mm x 420 mm x 660 mm
Total weight
55 kg
60 kg

Chamber dimensions

( Ø x Depth )

250 mm x 350 mm (17 l)
250 mm x 450 mm (22 l)
Load

6 kg (solid unwrapped)

3 kg (solid wrapped)

7.5 kg (solid unwrapped)

4 kg (solid wrapped)