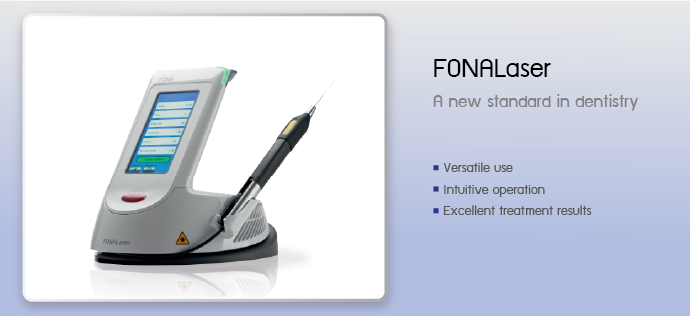 HIGHLIGHTS
FEATURES
TREATMENT ADVANTAGES
TECHNICAL SPECIFICATION

Intuitive operation
Touchscreen control, self-explanatory menu icons and preset programs make treatment settings easy and precise.

Versatile use
Wide range of applicationss in soft tissue surgery, germ reduction, pain treatment and whitening.

Excellent treatment results
Benefit from high precision, bloodless and painless treatments and accelerated healing.
Ergonomic handpiece

Shaped to fit in the hand and support comfortable finger activation.
---
Fiber length adjustment

Set the right fiber length for your treatment with a simple finger push.
---
Bendable tips

Fiber angle can be easily adjusted any time during the treatment for better access.
---
Touch screen control

User friendly and comprehensive menu available in many different languages.
---
Modern connectivity

Benefit from USB software update and interlock connector.
---
Handle for easy carrying

Low unit weight and compact design allows immediate portability and comfortable handling.
Soft Tissue Surgery

Surgical procedures can be performed with high precision and are almost bloodless, with prevention of infection, less pain and accelerated healing for the patient.
---
Endodontics

Excellent treatment results can be obtained because FONA Laser kills germs very effectively, stimulates tissue and bone growth and accelerates healing.
---
Periodontology

More comfort for the patient wiith painless treatment and excellent post-op results, including accelerated healing and healthy tissue growth.
---
Whitening

Laser whitening is highly effective and quick. That means a lower risk of post application sensitivity for the patient and a beautiful white smile.
---
Additional treatments

Wide range of additional procedures such as treatment of aphthous ulcers, herpes or desensitization.
TECHNICAL SPECIFICATIONS
Wavelength
970 +/- nm
Operation modes
Continuous, Chopped, Peak pulse
Power
0.5 - 4 W
Max. power in peaK plus
7 W
Frequency
1 - 100 Hz
Duty cycle
50% in chopped mode [variable in peak pulse]
Weight
~1.0 kg [incl. hand piece]
Dimensions
~19.7 x 18.2 x 18.9 cm
Input power
AC 220 V - 230 V / AC 110 V-115 V, 50 Hz / 60 Hz