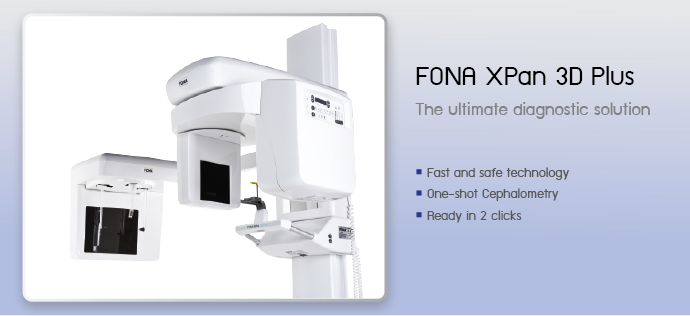 HIGHLIGHTS
FEATURES
TECHNICAL SPECIFICATION

Fast and safe technology
System with 2-sensors automatically and quickly adjusts its position toyour 3D, 2D Pano or Ceph program selection. This save time and secures your investment.

One-Shot Cephalometry
Innovative sensors technology acquires the cephalometric image in just one second, thus preventing patient movement and increasing image quality.

Ready in 2 clicks
Setting of exposure was never-easier-3D, Pano or Ceph injust two clicks. Simply select the program, patient size and you are ready to go.
3D Cone beam volume of 8.5 x 8.5 in just 30 seconds

Advanced 64-bit technology allows you to have a 3D image ready for diagnosis in as little as 30 seconds from start of acquisition. Mandibular canal and maxillary sinuses are clearly visible from a single exposure.
---
Implant planning at hand

Available implant planning software allows precise preparation of your implant placement and a wide
selection of more than 60 different implant brands.
---
Panoramic programs for all indications

You can also select from 7 panoramic programs including Sinuses and TMJ. Child panoramic and partial arch scans are available to allow patient dose reduction including partial Left side, Right side and Anterior dentition.
---
One-Shot Cephalometry

Quickly acquired and distortion-free images are immediately ready to be traced and evalutated, with detailed diagnostuc information in both soft and hard tissue.
TECHNICAL SPECIFICATIONS
Sensor technology
CMOS Flat panel sensor and PFPT sensor
Pixel size
100 μm
Voxel size
160 μm
Focal Spot
0.5 [IEC 336 / 1997]
Tube Voltage
61 – 85 kV
Tube Current
4 – 10 mA
Exposure time 2D
14.2 seconds [max]
Exposure time 3D
12.3 seconds [max]
Exposure time Ceph One-Shot
0.2 - 4 seconds [max]
3D Ative Sensor Area
130 x 130 mm
Ceph image size
240 x 300 mm
Volume size 3D
85 x 85 mm [diameter x height]
Image reconstruction time 3D
<10 seconds [standard reconstruction]
Weight
125 kg
Panoramic programs

[1] Adult panoramic, [2] Child panoramic, [3] Left-Side Dentition, [4] Right-Side Dentition, [5] Anterior Dentition, [6] TMJ in normal occlusion and fully open, [7] Frontal view of Maxillary Sinus

3D Programs
[8] Complete dentition, [9] Left TMJ, [10] Right TMJ
Ceph programs
[11] LL, [12] AP, [13] Carpus
Patient sizes
[1] Large, [2] Medium, [3] Small, [4] Child