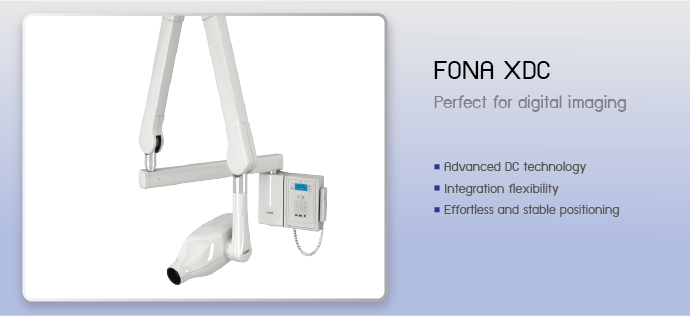 HIGHLIGHTS
FEATURES
TECHNICAL SPECIFICATION
ADVANCED DC TECHNOLOGY

State of the art DC technology means excellent image quality and all the details you need for your diagnosis.
---
Integration flexibility

Available as a mobile and wall-mounted version. Four different extension arm lengths and possibility to place the timer remotely, for even greater installation freedom and ease of use.
---
Effortless and stable positioning

The light, solid and stable arm assures smooth movement and reliable positioning. Mechanical system is based on proven X70 and XDG units. Thousands of satisfied customers already experience the ergonomy, ease of positioning and final position stability every day.
Precise setting for all exposures

Obtain the most appropriate exposure setting by selecting from 2 patient sizes, 9 tooth types and 3 detectors. Optional DAP available.
---
The contrast you prefer

Get the image information you are looking for. Select the voltage 60 kV for perio application to reveal statement of ligaments or 70 kV for endo to see more hard tissue contours.
---
Ergonomic positioning

Stable, easy to adjust arm ensures accurate and reliable positioning every time.
---
Rectangular beam limiting device

Reduce the patient dose by using the optional rectangular beam limiting device available in film size 0 and 2.
---
Remote solution

The wall mount and timer can be installed separately allowing to control the exposure from outside the X-ray room. This solution ensures radiation safety as well as easy installation and integration into your dental practice.
TECHNICAL SPECIFICATIONS
Generator
Direct Current (DC)
Focal Spot
0.4 [IEC 336/1997]
Tube Voltage
60 kV or 70 kV [selectable]
Tube Current
7 mA
Line Voltage
100/230 V, 50/60 Hz
Focus - skin distance
Standard 20 cm [optional 30 cm]
Exposure time
0.01 – 3.2 s / 0,07 – 22.4 mAs
Patient sizes
Adult, Child
Number of anatomical regions
9