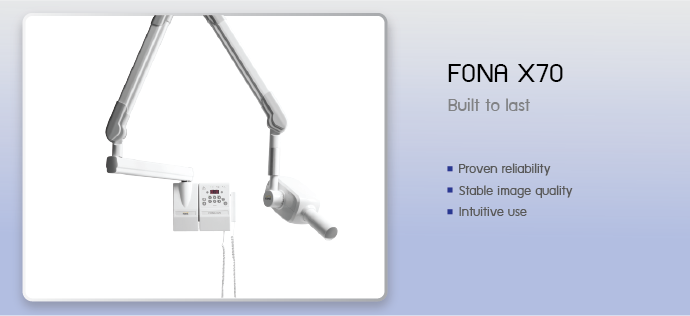 HIGHLIGHTS
FEATURES
TECHNICAL SPECIFICATION
Proven reliability

Protection against tube overheating gives the unit a long life, making your investment a secure one.
---
Stable image quality

A penetration power of 70 kV and microprocessor controlled timer guarantee good image contrast and consistent film blackening.
---
Intuitive use

Easy-to-use control panel allows intuitive and fast operation. Simply select the tooth type and patient size and the exposure settings will be automatically set in a range from 60 ms to 3.2 s assuring high image quality with each exposure.
Collimator length

20/21 cm standard or 30 cm optional collimator available.
---
Remote hand switch

With a cable length of 10 m, the remote hand switch is easy to mount where needed.
TECHNICAL SPECIFICATIONS
Generator
Alternating Current [AC]
Focal Spot
0.8 [IEC 336/1997]
Tube Voltage
70 kVp
Tube Current
7 mA
Line Voltage
120/230 V, 50/60 Hz
Focus - skin distance
Standard 21 cm
Exposure time
0.06 – 3.2 s
Patient sizes
Adult, Child
Number of anatomical regions
7