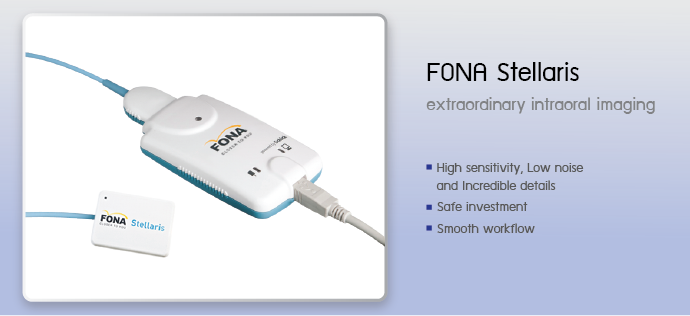 HIGHLIGHTS
SEE THE UNSEEN
TECHNICAL SPECIFICATION

Superb image quality for highest diagnostic value

Modular concept form protected investment and smart sharing

Easy workflow for single images or services
See more in your specialization

FONA Stellaris to deliver even the tiniest of details, giving you the confidence in diagnosing clinical cases. Thanks to the advanced CMOS-APS sensor and Cesium Iodide conversion plate, the images acquired with FONA Stellaris are rich and detailed.
---
Higher diagnostic value with lower radiation

Get images from multiple angles or retake an exposure of a restless patient. With FONA Stellaris this detail does not have to come at a cost, the high sensor sensitivity allows you to use doses of X-ray lower by as much as 5x, compared to traditional film.
---
Image in 2 seconds

Images on screen in under 2 seconds thanks to super-fast communication between Stellaris and the OrisWin DG Suite software.
---
Quickly change sensor size

Exchange for needed Stellaris size 0,1 or 2. Face every anatomy challenge.
---
Immediately shooting ready

Simply plug any size of Stellaris into the USB module and shoot instantly.
---
Fast sensor positioning

Sensor positioning with included positioning kit is easy and fast. Get best image results at 1st try.
---
Easy replacement

Chairside cable replacement so simple, anyone can do it. Continue shooting images in minutes.
---
Replaceable cable

With replaceable sensor cable you are safe from work disruptions due to cable failure.
General dentistry

Conservative therapy
Uncover even the smallest tissue demineralization.
Secondary caries
Reveal secondary caries under fi llings with clear contours of the pulpal cavity.
---
Endodontics

Root apex
Use the highest detail to detect proper ending of the root tip.
---
Periodontics

Periodontal diagnosis
Clearly see levels and quality of the crestal bone.
---
Implantology

Implant surgery
Depth of detail lets you assess bone levels around healing implants.
---
Surgery

Safe implant planning
Reliably evaluate bone quality, levels and thickness of crestal bone.
TECHNICAL SPECIFICATIONS
Size
Sensor Size 0
Sensor Size 1
Sensor Size 2
Technology
CMOS APS (Active Pixel Sensor) with Low noise Cesium Iodide (CSI) scintillator
Sensor sharp
Rounded corners for patient comfort
Sensor activition
Always ready
Sensor cable

Exchangeable cable available in three lengths:

0.9 m, 1.8 m - pre-installed, 2.7 m

Connectivity
USB 2.0
External dimensions
32x24 mm
38x25 mm
43x31 mm
Active sensor area
24x18 mm
30x20 mm
36x25.6 mm
Software
OrisWin DG Suite Operating system support Windows 8.1, Windows 7, Windows XP, Windows ME