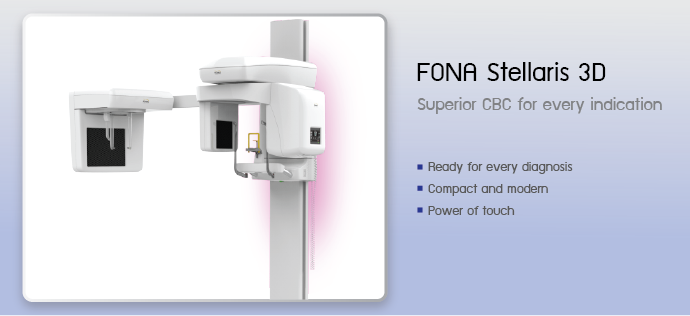 HIGHLIGHTS
FEATURES
TECHNICAL SPECIFICATION

Ready for every diagnosis
Stellaris 3D covers a variety of diagnostics in 2D, 3D and Ceph with multiple fields of view, programs for panoramic examinations and cephalometric scans. Resolution selections available are ECO, Standard and HD to fit your specific needs.

Compact and modern
The minimalist, elegant, space-saving design allows installation of Stellaris 3D in areas where conventional devices would not fit.

Power of touch
Control of the system is available from your PC screen as well as on the unit's touchscreen, allowing straightforward program selection with hints for correct positioning.

Panoramic Programs
Latest sensor technology of Stellaris 3D allows HD or Low Dose examinations. Comprehensive range of programs are available in both adult and child mode saving the unnecessary dose. Programs include full and partial panoramic, panoramic BiteWing, TMJ, Sinuses and partial programs.
| | |
| --- | --- |
| | |
| High Definition and Low Dose programs | Panoramic BiteWing |
| | | |
| --- | --- | --- |
| | | |
| Half Dentition left | Anterior Teeth | Half Dentition Right |
---

Cephalometric Programs
Stellaris 3D delivers One-Shot cephalometric images with focus on clarity of tracing points of hard- and soft-tissue anatomical structures.Dense areas where tracing points are hard to distinguish are clearly visible. The image is calibrated and ready for cephalometric tracing.
| | | |
| --- | --- | --- |
| | | |
| Cephalometric AP | Cephalometric LL | Carpus |
---
Ambint glow

Ambient lighting creates a comfortable atmosphere for the patient and allows to monitor the unit status from a distance.
---
Upgradeable

A one-shot technology cephalometric arm can be added when you need it.
TECHNICAL SPECIFICATIONS
Sensor technology
CMOS Flat panel sensor and One-Shot PFPT sensor
Dynamic range
16 bit (>65536 greylevel)
Multi-Field-of-View
7 FOVs perfect for endo, surgical, Implants, TMJ, perio treatments
Fields of View
5x6, 6x10, 7x6, 8x6, 8x8, 10x6, 10x10
3D Active Sensor Area
150x150 mm
Mode
HD and ECO mode
Ceph One-Shot
Quick image acquisition in Ceph mode thanks to the One-Shot technology
Ambient lighting
Enhances patient comfort and indicates feedback messages to the user
Panoramic Program

[1] Adult panoramic, [2] Child panoramic, [3] Left-Side Dentition,
[4] Right-Side Dentition, [5] Anterior Dentition, [6] TMJ in normal
occlusion and fully open, [7] Frontal view of Maxillary Sinus, [8] BW [9] Dentition

One Shot LL images
18 x 24 up to 30 x 24
Software
OrisWin DG Suite imaging software