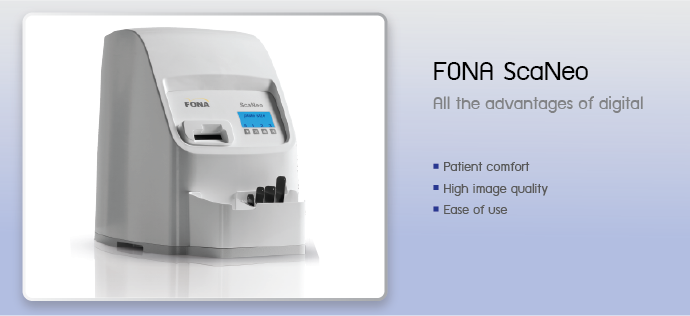 HIGHLIGHTS
FEATURES
TECHNICAL SPECIFICATION
Excellent image quality

Detailed diagnosis is possible thanks to wide dynamic range and high image resolution.
---
Intuitive operation

Supported by a step-by-step guidance and a carrier that adapts to the size of plate being used.
---
Available in all standard sizes

FONA imaging plates are available in all standard intraoral imaging plate sizes: 0, 1, 2 and 3. They are thin and flexible, making them easy to handle and comfortable for the patient.
Excellent image quality for daily diagnoses:

Multiple user solution

ScaNeo can be used either directly at the chair side or located centrally to service several treatment rooms.
---
Secure investment

ScaNeo is tested for more than 20.000 cycles to offer you all the advantages of reliable digital imaging and ensure your investment is a secure one.
---
Quick operation

Readout within seconds, immediate image display and the automatic plate erase allow a quick operation and the unit being immediately ready for the next use.
---
Portable plate tray

ScaNeo's plate tray allows a tidy storage of imaging plates and hygienic covers. With multiple trays and sets of imaging plates your workflow will be even smoother.
---
Protective covers for lasting image quality

Special anti-scratch coating and a light protective covering ensure the excellent image quality of FONA dental imaging plates.
TECHNICAL SPECIFICATIONS
Pixel size
30 μm
Bit depth
16 bits grayscale
Real resolution
17 lp/mm
Scanning time
6.5 – 14.8 s (depending on plate size)
Connection
Ethernet
Operating Voltage
100-240 V, 50-60 Hz
Dimensions [WxHxD]
235 x 455 x 343 mm
Weight
10 kg