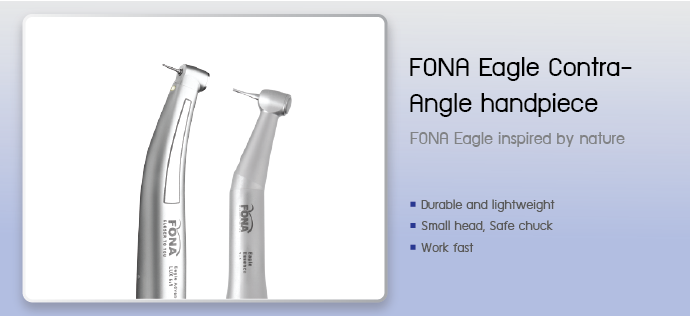 HIGHLIGHTS
TECHNICAL SPECIFICATION

Design from lightweight material and durable material.

A small head diameter, Bur safely nested in the strong chuck mechanism.

Bur spin available up to 200,000 rpm. Fast connection with push button allows quick instrument swap. Available in version 1:5 (red), 1:1 (blue), 6:1 (green).

Premium hygiene made of 135°C sterilizations.

The LED light allows high visibility from every angle.

Made in Germany.
| | | |
| --- | --- | --- |
| | | |
| Small head and Safe chuck | Durable and lightweight | Work fast |
TECHNICAL SPECIFICATION
Types:
Eagle Advance LUX 1:5 / Eagle Advance 1:5
Eagle Advance LUX 1:1 / Eagle Advance 1:1
Eagle Advance LUX 6:1 / Eagle Advance 6:1
Eagle Essence 1:1
Light:
Yes / No
Yes / No
Yes / No
No
Head Size:
ø 8.7 / ø 8.7 mm
ø 8.7 / ø 8.7 mm
ø 8.7 / ø 8.7 mm
ø 8.7 mm
Head Height:
~14.6 mm / ~ 14.6 mm
~12.4 mm / ~ 12.4 mm
~12.4 mm / ~ 12.4 mm
~12.4 mm
Transmission / reduction:
1:5 / 1:5
1:1 / 1:1
6:1 / 6:1
1:1
Max. Speed:
200,000 rpm
40,000 rpm
6,000 rpm
40,000 rpm
Max. operating part diameter:
< 2.1 mm
Max. operating part lenght:
≤ 25 / 25 mm
≤ 34 / 34 mm
≤ 34 / 34 mm
≤ 34 / 34 mm
Coupling:
INTRAmatic LUX / INTRAmatic
INTRAmatic LUX / INTRAmatic
INTRAmatic LUX / INTRAmatic
INTRAmatic
Spray:

3

(> 50 ml / min )

1

(> 50 ml / min )

1

(> 50 ml / min )

external 1

(> 50ml / min )

Intensity of illumination:
25,000 Lux / No
25,000 Lux / No
25,000 Lux / No
No
TECHNICAL SPECIFICATION
Types:
Eagle Advance LUX 1:5 / Eagle Advance 1:5
Eagle Advance LUX 1:1 / Eagle Advance 1:1
Eagle Advance LUX 6:1 / Eagle Advance 6:1
Eagle Essence 1:1
Light:
Yes / No
Yes / No
Yes / No
No
Head Size:
ø 8.7 / ø 8.7 mm
ø 8.7 / ø 8.7 mm
ø 8.7 / ø 8.7 mm
ø 8.7 mm
Head Height:
~14.6 mm / ~ 14.6 mm
~12.4 mm / ~ 12.4 mm
~12.4 mm / ~ 12.4 mm
~12.4 mm
Transmission / reduction:
1:5 / 1:5
1:1 / 1:1
6:1 / 6:1
1:1
Max. Speed:
200,000 rpm
40,000 rpm
6,000 rpm
40,000 rpm
Max. operating part diameter:
< 2.1 mm
Max. operating part lenght:
≤ 25 / 25 mm
≤ 34 / 34 mm
≤ 34 / 34 mm
≤ 34 / 34 mm
Coupling:
INTRAmatic LUX / INTRAmatic
INTRAmatic LUX / INTRAmatic
INTRAmatic LUX / INTRAmatic
INTRAmatic
Spray:
3 (> 50 ml / min )
1 (> 50 ml / min )
1 (> 50 ml / min )
external 1 (> 50ml / min )
Intensity of illumination:
25,000 Lux / No
25,000 Lux / No
25,000 Lux / No
No