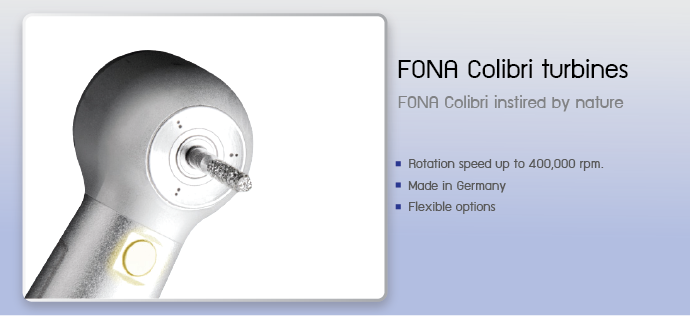 HIGHLIGHTS
TECHNICAL SPECIFICATION

Rotation speed up to 400,000 rpm with specially design cooling system to prevent overheating.

Rotor are combined with high quality bearings for quiet operation.

Resistant material and sure grip finishing.

Precise rotor technology with high quality ceramic bearings. Made in Germany.

Excellent power-to-size ratio. AeroDynamic brake and specially designed cooling spray nozzles optimize power/noise/speed balance.
| | | |
| --- | --- | --- |
| | | |
| Rotation speed up to 400,000 rpm | Flexible options | Quieter than ever |
TECHNICAL SPECIFICATION
Types
Colibri Advance LUX SR/SM
Colibri Advance LUX KR/MR
Colibri Advance LUX WR/WM
Colibri Advance LUX NR/NM
Light:
Yes
Yes
Yes
Yes
Coupling:
FONA 8090L or 8090S / quick coupling
KaVo LUX / quick coupling
W&H Roto Quick / quick coupling
NSK Machlite / Phatelus / quick coupling
Bearing Type:
Ceramic
Power:
~ 21 W / ~ 18 W
~ 21 W / ~ 18 W
~ 21 W / ~ 18 W
~ 21 W / ~ 18 W
Speed:
350,000 / 400,000 rpm
350,000 / 400,000 rpm
350,000 / 400,000 rpm
350,000 / 400,000 rpm
Burr:
FG bur ø 1,59 - 1.6 mm
Operating pressure:
~ 2.7 bar
~ 2.7 bar
~ 2.7 bar
~ 2.7 bar
TECHNICAL SPECIFICATION
Types
Colibri Advance SR/SM
Colibri Advance KR/MR
Colibri Advance WR/WM
Colibri Advance NR/NM
Colibri Advance MR/BR
Colibri Essence MR/BR
Light:
No
No
No
No
No
No
Coupling:
FONA 8090 / quick coupling
KaVo / quick coupling
W&H Roto Quick / quick coupling
NSK QD-J / quick coupling
Midwest / Borden 3-2 fixed connector
Midwest / Borden 2 fixed connector
Bearing Type:
Ceramic
Power:
~ 21 W / ~18 W
~ 21 W / ~18 W
~ 21 W / ~18 W
~ 21 W / ~18 W
~ 24 W / ~14 W
~ 17 W / ~ 17 W
Speed:
350,000 / 400,000 rpm
350,000 / 400,000 rpm
350,000 / 400,000 rpm
350,000 / 400,000 rpm
380,000 / 380,000 rpm
400,000 / 400,000 rpm
Burr:
FG bur ø 1,59 - 1.6 mm
Operating pressure:
~ 2.7 bar
~ 2.7 bar
~ 2.7 bar
~ 2.7 bar
~ 2.3 bar
~ 2.3 bar
TECHNICAL SPECIFICATION
Types
Colibri Advance LUX SR/SM
Colibri Advance LUX KR/MR
Colibri Advance LUX WR/WM
Colibri Advance LUX NR/NM
Light:
Yes
Yes
Yes
Yes
Coupling:
FONA 8090L or 8090S / quick coupling
KaVo LUX / quick coupling
W&H Roto Quick / quick coupling
NSK Machlite / Phatelus / quick coupling
Bearing Type:
Ceramic
Power:
~ 21 W / ~ 18 W
~ 21 W / ~ 18 W
~ 21 W / ~ 18 W
~ 21 W / ~ 18 W
Speed:
350,000 / 400,000 rpm
350,000 / 400,000 rpm
350,000 / 400,000 rpm
350,000 / 400,000 rpm
Burr:
FG bur ø 1,59 - 1.6 mm
Operating pressure:
~ 2.7 bar
~ 2.7 bar
~ 2.7 bar
~ 2.7 bar
TECHNICAL SPECIFICATION
Types
Colibri Advance SR/SM
Colibri Advance KR/MR
Colibri Advance WR/WM
Colibri Advance NR/NM
Colibri Advance MR/BR
Colibri Essence MR/BR
Light:
No
No
No
No
No
No
Coupling:
FONA 8090 / quick coupling
KaVo / quick coupling
W&H Roto Quick / quick coupling
NSK QD-J / quick coupling
Midwest / Borden 3-2 fixed connector
Midwest / Borden 2 fixed connector
Bearing Type:
Ceramic
Power:
~ 21 W / ~18 W
~ 21 W / ~18 W
~ 21 W / ~18 W
~ 21 W / ~18 W
~ 24 W / ~14 W
~ 17 W / ~ 17 W
Speed:
350,000 / 400,000 rpm
350,000 / 400,000 rpm
350,000 / 400,000 rpm
350,000 / 400,000 rpm
380,000 / 380,000 rpm
400,000 / 400,000 rpm
Burr:
FG bur ø 1,59 - 1.6 mm
Operating pressure:
~ 2.7 bar
~ 2.7 bar
~ 2.7 bar
~ 2.7 bar
~ 2.3 bar
~ 2.3 bar