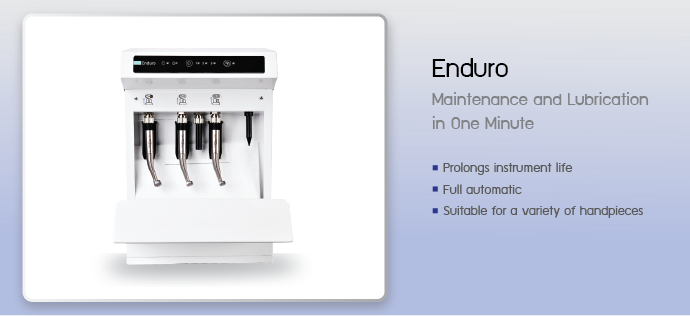 HIGHLIGHTS
TECHNICAL SPECIFICATION
Chuck lubrication and Maintanance of 3 instruments in one minute.

The fast technology guaratees the process is quick and efficient, delivering handpieces ready for use immediately with minimal manual handing.
---
Fully Automatic

Enduro automatically recognises when the instrument is inserted and the whole process starts with a single button press. Safety look accidental activation when the door is open and oil sensor warns the user to replace the oil can.
---
Suitable for a variety of handpieces

Enduro can be used for most popular handpiece brands. Instruments are easily placed and detached from the unit for your convenience and smooth workflow.
---
Intuitive operating keypad

The easy-to-use operating keypad has indicator for each instrument and status of the process.
TECHNICAL SPECIFICATION
Dimensions
289 mm (l), 232 mm (w), 414 mm (h)
Weight
9.6 kg
Electrical rating
100-230 V +-10%, 50/60 Hz, 30 VA max
Maximal altitude
2000 m
Inlet pressure
4-6 bar
Air consumption
40 Nl/min
TECHNICAL SPECIFICATIONS
Max. Power input at 230 V/50 Hz
400 VA
Input pressue of air
from 0.45 to 0.8 MPa
Input pressue of water
from 0.3 to 0.6 MPa

Dental unit weight (Without the chair)

Advance H

100 kg + max. 20 kg

acc. to version

Dental unit weight (Without the chair)

Advance W

105 kg + max. 20 kg

acc. to version

Max. Loading capacity of the patient chair
235 kg (135 kg patient + 100 kg carried axillary equipment)