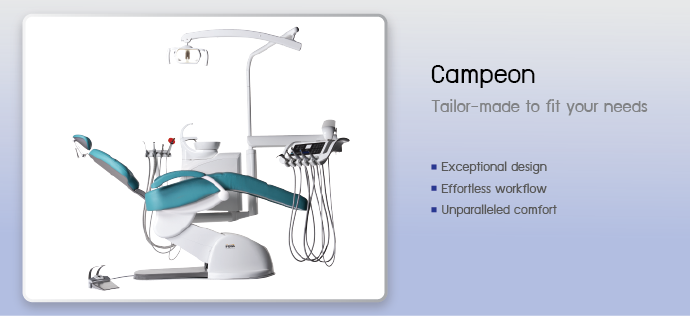 HIGHLIGHTS
FEATURES
TECHNICAL SPECIFICATION

Ergonomic design allows unlimited patient access

Build for effortless positioning

Rely on preset instrument programs and save time

Foot control integrates broad functionality for safe hands-free operation

Perform endo treatments without additional equipment

Professional patient communication with camera and video system

Hygiene under control thanks to water treatment and decontamination
Turning assistant element and water unit

Assistant element and Water unit rotates more than 90° clockwise for easy reach during treatments, maintenance and cleaning.
---
Turning ceramic or glass bowl

Frosen glass or ceramic cuspiudor bowl with mechanical or automatic turning.
---
Hygiene for water and suction lines

Disinfection of water, purge and decontamination of the suction lines, all for safer treatments.
---
LED operating light

Sensor operated light with high intensity up to 30.000 Lux and composite mode.
---
Swingable Armrest

Enjoy easy patient access with swingable right armrest, leading to comfortable work and less strain from leaning over to reach your patient.
---
Proportional foot control

Full control over chair programs, repositioning and proportional regulation of rotary instruments.
TECHNICAL SPECIFICATIONS
Max. Power input at 230 V/50 Hz
400 VA
Input pressue of air
from 0.45 to 0.8 MPa
Input pressue of water
from 0.3 to 0.6 MPa

Dental unit weight (Without the chair)

Advance H

100 kg + max. 20 kg

acc. to version

Dental unit weight (Without the chair)

Advance W

105 kg + max. 20 kg

acc. to version

Max. Loading capacity of the patient chair
235 kg (135 kg patient + 100 kg carried axillary equipment)